FusionPoint, Inc. (FusionPoint) is an SBA 8(a), a WOSB (8m), EDWOSB, SDVOSB, SBA 8(a), and SDB providing an array of Professional Administrative Services; Information Management Support; and Program Management and Technical Services to the federal government and the private sector.
With over 50 years of combined technical and professional expertise, FusionPoint's principals have a wealth of experience in both defense and civilian agencies.
Headquartered in San Antonio, TX, with an office in Largo, MD, our strength lies in our personnel's ability and commitment to deliver exceptional management support services in a timely and effective manner.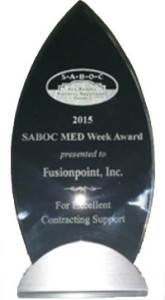 Awards
FusionPoint is a recipient of the 2015 San Antonio Business Opportunity Council (SABOC) Minority Enterprise Development (MED) Week Award for Excellent Contracting Support.
Community Service and Charitable Contributions
ASPCA
Capital Food Bank
St. Jude
Regeneration Youth Conference
Miriam's Kitchen
Providence St. John Baptist Church
United Way
Kiva
Center for Refugees